10 Reasons Amazon Should Pick Toronto for HQ2
October 25, 2017
Let's do this, Amazon …
Amazon CEO Jeff Bezos is busy taking over the world. He doesn't have time to read in-depth proposals from cities vying for Amazon's second headquarters (HQ2), a jackpot worth $5 billion U.S. and 50,000 lucrative tech jobs.
To keep things simple, here's a quick business case championing Toronto for Amazon HQ2, gleaned from my 83% win rate on RFP project teams across the U.S., Canada and Europe.
1. Top tech talent:
Nicknamed Silicon Valley North, Toronto is North America's fastest growing tech market.[i] It's home to:
4100 active tech startups;
Technology graduates from prestigious schools (including nearby University of Toronto, York University and University of Waterloo); and
Amazon's rivals, tech giants Apple, Facebook, Google, plus Google's new cutting-edge Alphabet Labs tech neighbourhood.[ii]
Amazon would gain impressive tech expertise — at more affordable rates than in the U.S., saving $1.5 billion per year (!) on salaries — while keeping a close eye on its fiercest competitors in Toronto's thriving business environment.[iii]
Investing in the future: Federal and provincial governments
are funding AI and supply chain education and research
to support sustainable economic growth.
Looking to the future, Toronto received praise for government commitment "to STEM fields like no other city in the U.S."[iv] The government of Ontario committed $30 million to boost the number of artificial intelligence (AI) graduates in the province.[v]
2. Serious brain gain:
The U.S. administration's America First policy threatens non-U.S. talent, who need the H-1B "genius visa" to work in the United States. (At competitor Facebook, such foreign guests account for 15% of workers.)[vi]
By contrast, Canada's tech sector is happy to welcome brilliant minds from all over the world. That's why Business Insider called Canada's immigration policy more liberal and welcoming than America's.[vii]
Why does this matter? To be the best in the world, Amazon needs the best talent in the world.
That's why Jeff Bezos is not afraid of Trump. Not even a smidge. He knows his company will long outlast the current administration and any protectionist policies it puts forth.
Smokin' hot tech scene: Toronto's thriving tech community includes proven experts like tech marketing star Jason Goldlist, Co-founder at TechToronto.org (#TechTO) on the hoverboard.

3. Cheap Canadian dollar:
With a comparatively lower dollar, "Toronto looks cheap compared to premium U.S. markets like San Francisco, New York and Boston."[viii] The Canadian dollar would give Amazon a sustained source of cost efficiency the retailer won't achieve in its domestic market.
Such cost control is imperative since (it's core to the Amazon brand and) the company is serious about conquering everyday low price retailer Walmart.
Surprising many, Toronto's HQ2 bid did not offer any financial incentives. Why? Because we *are* the financial incentive.
4. Continental domination:
Establishing an eastern presence for HQ2 balances out Amazon's Seattle headquarters in the west. Creating a robust supply chain network in Toronto will ensure the e-commerce giant serves shoppers with even greater agility and speed for a superior customer experience across the entire continent.
5. Local bounty:
To continue to beat Walmart in e-grocery by offering the fresh, local and organic products consumers crave, Amazon and Whole Foods will benefit from a Toronto location. More than 70,000 farms exist nearby within the province of Ontario, ready to serve hungry in-store and e-grocery shoppers.[vi]
Drake + Amazon: Think about it.
6. Cultural hotspot:
Toronto is a destination city with a vibrant cultural scene. The city is home to international stars like rap mastermind Drake, literary giant Margaret Atwood and the Raptors basketball team, among others. The abundance of cultural options would offer Amazon employees a fulfilling quality of life.
Jeff Bezos loves his Star Trek: Well, fiddle-dee-dee, what a coincidence — the Star Trek: Discovery series was shot in Toronto, a vibrant metropolis, and magnet for movie and TV shoots.
BBC Radio even declared Toronto the most diverse city in the world, as 51% of residents were born outside Canada.[x] Toronto's inclusive rainbow of ethnicities means Amazon employees would feel at home, no matter where in the world they're from.
Yet an inclusive culture means more than feel-good, "kumbaya" benefits …
Toronto's diversity is also a business asset. Amazon is thinking beyond North America to compete with Asia's retail monsters, including China's Alibaba and JD.com. (Amazon even considered buying India e-grocer BigBasket the week it acquired Whole Foods.)
As Amazon's first of many international headquarters, Toronto would offer an abundance of culturally-diverse talent. These citizens could also give Amazon insights into other markets and continents it plans to conquer — while minimizing the risk of foreign expansion.
7. Justin Trudeau:
As former TD Bank president CEO Ed Clark declared, "The American dream hasn't died; it just lives here in Canada."
That's because Canada's progressive prime minister aligns with many principles that values-oriented millennial and Gen Z Amazon shoppers (and tech workers) desire, including diversity, openness, innovation, sustainability and corporate social responsibility. Plus he's dreamy.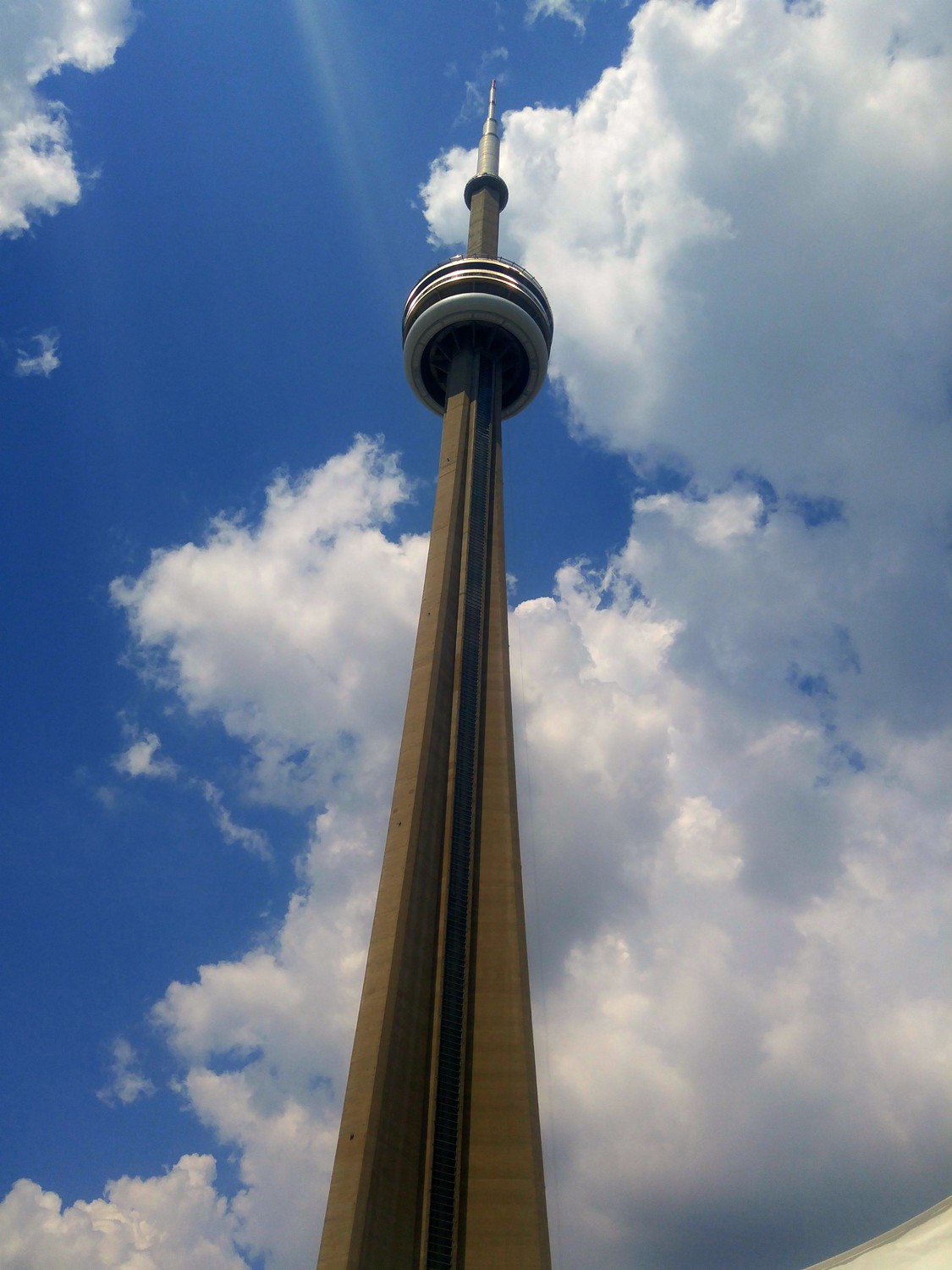 Reaching for the sky: Toronto's iconic CN Tower symbolizes the city's lofty ambition to make its world-class tech scene even stronger.
8. Saucy humour:
Where else in the world will you find a giant phallic symbol (the CN Tower, above) or trade the American eagle for the equally-dignified beaver as a national animal?
Toronto's long history of comedic brilliance, which produced such stars as Mike Myers, Jim Carrey and Martin Short, will keep Amazon employees laughing all year round. And happy workers are productive workers, so cha-ching!
9. Safest city by far:
The Economist Intelligence Unit just named Toronto the 4th safest city in the world after Tokyo, Singapore and Osaka — making Toronto the safest city in the Western hemisphere.
This significant announcement comes at a time when security is a profound strategic advantage to keep employees and assets safe, and reduce the risk of business disruption.[viii]
10. International respect:
Just announced: For the second consecutive year, Canada ranks 2nd in the world on the 2018 Best Countries list compiled by U.S. News in partnership with Wharton. (Switzerland ranks 1st.) The U.S. slipped to 8th place, proving Canada is an attractive, strong and worthy competitor.[xii]
The Bottom Line for Amazon HQ2:
It's time to put the "eh" in Amazon.
For a strategically sound, safe and affordable source of productive employees who will delight shoppers (and accelerate Amazon's global retail and tech domination), Toronto is where it's at.
What do you think? Is Toronto ready for this retail tech jackpot — or is another city a better fit for Amazon HQ2?
If you like this article, you may also enjoy:
5 Ways Amazon Will Rock Grocery
Why E-Commerce Giants are Getting Physical
Grocery E-Commerce Set to Surge



Lisa Goller is a marketing and communications professional with over 15 years of experience serving B2B, tech and retail companies. She helps businesses tell their story through irresistible content marketing and strategic communications.

Sources:
[i] Jackson, Brian. Tech talent in Toronto, Vancouver is top quality at budget rate: CBRE Report. IT World Canada. July 20, 2017.
[ii] Dingman, Shane. Toronto's tech startup scene in a 'blossom state.' The Globe and Mail. February 14, 2016.
[iii] The Canadian Press. Amazon would save $1.5B a year in salaries if new HQ in Toronto area: Ed Clark. CBC News. October 18, 2017.
[iv] Cawley, Conor. The Case for Each of Amazon's HQ2 Finalist Cities. TechCo. January 18, 2018.
[v] The Canadian Press. Ontario commits $30M for A.I. grads in bid to woo Amazon. CBC News. October 18, 2017.
[vi] Haavardsrud, Paul. 'Trump has scared the bejesus out of everyone': How Canada could win the Amazon sweepstakes. CBC News. September 23, 2017.
[vii] Green, Dennis. Canada just escalated the $5 billion war for Amazon's second headquarters. Business Insider. September 25, 2017.
[viii] Jackson, Brian. Tech talent in Toronto, Vancouver is top quality at budget rate: CBRE Report. IT World Canada. July 20, 2017.
[ix] Statistical Summary of Ontario Agriculture. Ontario Ministry of Agriculture Food and Rural Affairs. June 5, 2017.
[x] Flack, Derek. Toronto named most diverse city in the world. blogTO. May 15, 2016.
[xi] Bennet, Bailey. These Are the Safest Cities to Live in Around the World. Travel + Leisure. October 12, 2017.
[xii] Drew, Kevin. America Slips in the Eyes of the World. U.S. News. January 23, 2018.