In this second post in the series on retail's marketing evolution, we examine TikTok's meteoric rise in popularity.
Within 5 years of its global debut, this social networking platform has emerged as a force in retail's marketing evolution due to its:
♦ Growing user base
♦ Increasing advertiser interest
♦ Sophisticated content personalization
Last week, the media reported TikTok's plans to open e-commerce fulfillment centers in the U.S. as part of a larger strategy to monetize its platform.

Market size
Short video platform TikTok earned $4.6 billion in revenue in 2021, up 77% from $2.6 billion in 2020.
TikTok's annual revenues keep growing, as more brands pay to gain access to TikTok's massive, global user base.
TikTok user growth
TikTok has attracted more than 1 billion viewers, as consumers find the app's blend of entertainment, information and social connection addictive.

The number of monthly active users rose 29% YoY from 700 million in 2020 to 902 million in 2021.

Global user base
TikTok has quickly earned high user rates around the world. Notably, the large figure for the Asia-Pacific region excludes users in China and India.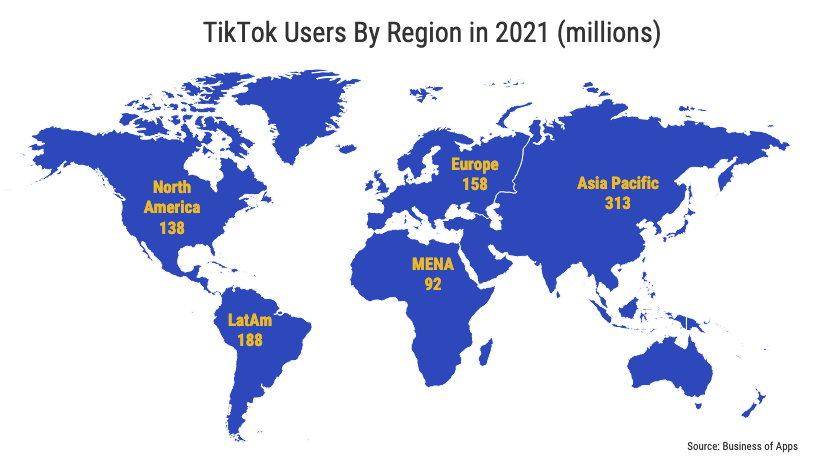 TikTok users by age
Notice how consumers under the age of 30 dominate TikTok's age demographics, accounting for 63% of total users.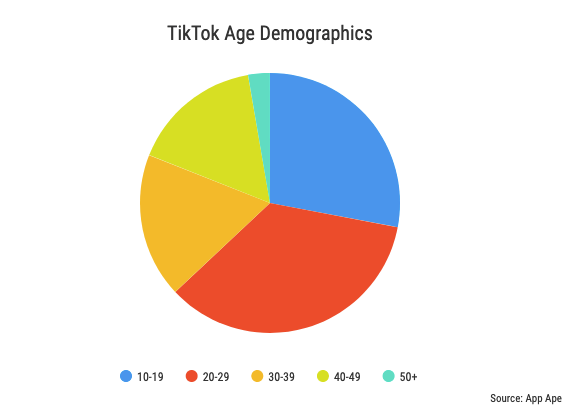 User engagement
Over 40% of Gen Z spends more than 3 hours per day on TikTok.
Among Americans aged 13-17, 58% use TikTok once a day.
As an AI-driven platform, TikTok matches a user's interests with relevant videos, boosting the duration of their engagement with personalized content.
TikTok net advertising revenue projections

Such enviable engagement is helping TikTok increasingly attract advertising revenue, especially among brands that seek younger consumers.

As for marketing spend, TikTok parent ByteDance spent $19.2 billion in 2021 (second only to Alphabet at $22.9 billion) to drive brand awareness, attract new users and fuel global growth.

Partnerships
TikTok teamed up with retail and tech titans, including Walmart for livestream shopping events in 2020 and 2021, and Shopify for e-commerce features and ad management.
Competitive landscape
Although it only debuted in 2017 internationally (and in 2016 in China as Douyin), TikTok is on track to rank third by user base among social networks. Rivals cite privacy risks due to TikTok's link to China and consumer data concerns.

While TikTok is adding international e-commerce and fulfillment capabilities, Amazon is testing a TikTok-like video feed in its own app.
Amid intense competition and geopolitical tension, rivals and regulators have voiced concerns about TikTok's data privacy and ties to China.
Looking ahead, expect more retail and tech giants to compete for shopper data and share mesmerizing content as a vehicle to attract even more users and advertising revenue.

What else have you noticed about TikTok's growth?

Sources:
App Ape, Business of Apps, CNBC, Digital Information World, eMarketer, Forbes, GeekWire, Insider Intelligence, The New York Times, Pew Research Center, South China Morning Post, TechCrunch, TikTok, The Washington Post


Related
Retail Media Networks (market overview)
Social Commerce is the Future of Retail